IS JAPAN A HAVEN FOR PARENTS WHO KIDNAP THEIR OWN CHILDREN?
Foreign parents who had children stolen by a spouse say nothing has changed because court orders to reunite families are not enforced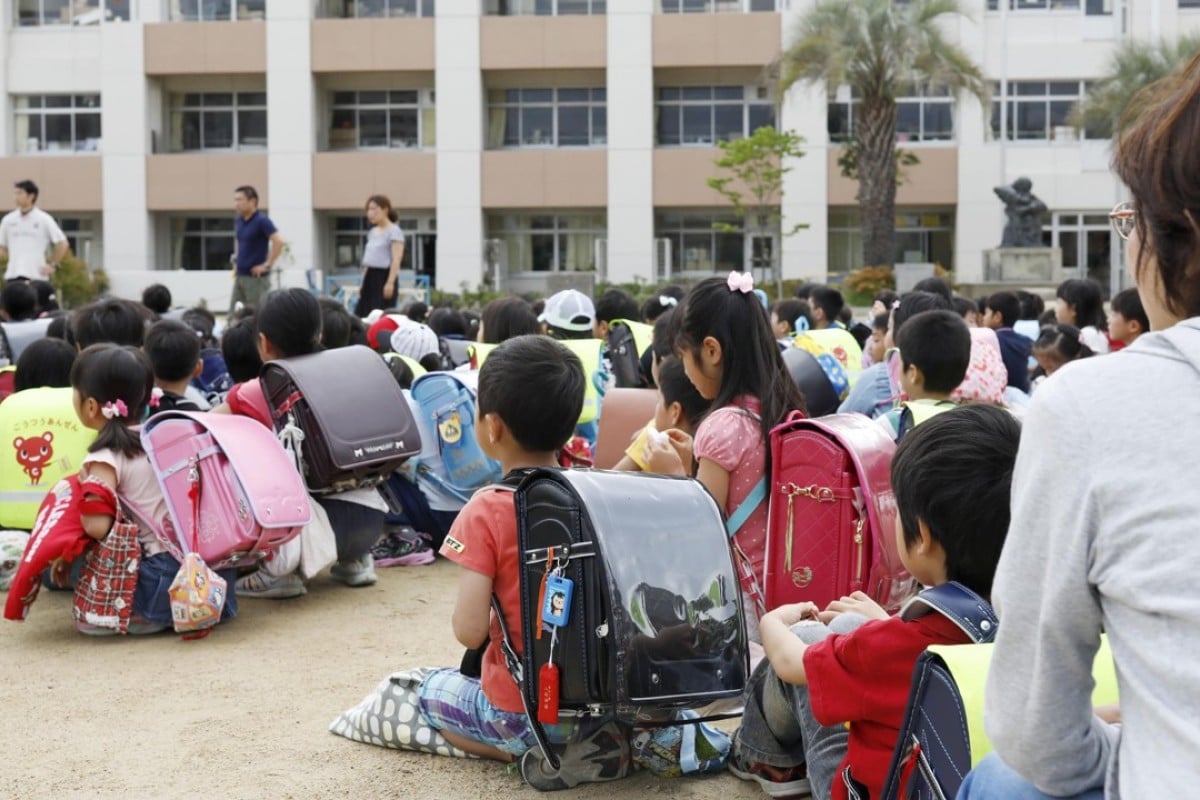 School children take shelter at schoolyard in Ikeda, Osaka, following an earthquake Monday, June 18, 2018. A strong earthquake has shaken the city of Osaka in western Japan. There are reports of scattered damage including broken glass and concrete. (Takaki Yajima/Kyodo News via AP)
Walter Benda has only seen his two daughters once in the past 23 years. His wife disappeared from their home in Chiba, east of Tokyo, in July 1995 after he had gone to work one morning, utterly unprepared for the disappearance of his family.
After learning that his wife had disappeared with their children, he received no help from Japanese authorities to find his daughters, despite the US government issuing an international arrest warrant against his wife for kidnapping.
The one time he saw his daughters since was a fleeting glance after a private detective had tracked them down.
There was a glimmer of hope in April 2014 after Tokyo agreed to sign the Hague Convention on the Civil Aspects of International Child Abductions – after years of pressure from foreign governments trying to solve hundreds of similar abductions by Japanese nationals – but now Benda says he is no closer to finding his children.
Foreign parents who had children stolen by a spouse say nothing has changed because court orders to reunite abducted children are not enforced in Japan. Even though the law is on their side, the parents emphasise, they are still unable to be reunited with their children.
"Since the Hague treaty was introduced, we have not seen a very significant improvement in children who have been abducted by a Japanese parent being reunited with their other parent," Benda told This Week in Asia. "The only positive improvement that I have noted is that there seems to be a decline in the overall number of international abductions to Japan, so implementation of the convention does seem to have had something of a deterrent effect on the frequency of international child abductions to Japan."
In 2017, there were nine abductions involving 13 children from the United States, of which five cases were resolved. But a quick look at the website of the US-based Children's Rights Council – of which Benda is a founding member – shows more than a dozen outstanding cases, some of which go back more than a decade.
Benda's assessment is echoed by the US state department's annual report on international child abduction. Released in May, it identifies the main problem in Japan being "cases where taking parents refused to comply with court return orders, there were no effective means to enforce the order, resulting in a pattern of non-compliance."
The report concludes that Japan is one of the worst countries in the world for complying with the Hague agreement, a finding that Benda says is "definitely justified".
"I do not believe there is a sincere commitment on the part of the Japanese government to strongly intervene in these cases," he said. "And I am particularly concerned that there has been virtually no progress made in providing access, let alone reunification, for parents who merely want access to their children through the Hague process, or through other official means."
Japanese law makes it difficult for children who have been taken by a parent to be reunited with the other parent. It requires police and court officials to visit the home of the abducting parent, the child must willingly leave the taking parent and the child must not be at risk of psychological harm. The drawbacks to these conditions are clear – particularly if a child has been effectively brainwashed to choose the abducting parent.
There are also long delays in the Japanese legal system that make enforcement more difficult, Benda points out, adding that the state department report makes clear, "unless the taking parent voluntarily complied with a return order under the Convention, judicial decisions in Convention cases in Japan were not enforced".
Yoko Kamikawa, the justice minister, said late last month that the ministry would begin to overhaul laws that implement the Hague Convention, including allowing for the return of a child when the parent who abducted the child is not present – although Benda says he still has deep reservations over whether authorities tasked with intervening in such cases will side with a foreign parent.
Brian Thomas, who was the joint founder of the Japan branch of Children's Rights Council and last saw his son, Hajime, in April 1993, agreed that greater enforcement of the law was needed.
"It is encouraging that Japanese courts are now siding with foreign parents who have had their children abducted, although that breakthrough is completely negated by the courts failing to insist on the abducting parent abiding by these rulings," he said.
Thomas said abducting parents often hid behind the law's requirement that a child must be shielded from psychological or physical harm.
"They are aware that is a loophole in the law. The courts and these abducting parents are treating the children like chattel rather than living, breathing people who deserve to be loved by both parents, no matter what," he said.
Benda said he advocated a carrot-and-stick approach to existing cases, with outstanding international arrest warrants rescinded after the abducting parent has agreed to honour international access orders. For parents who still refuse to comply, then they need to understand from the Japanese authorities that they face extradition orders to face kidnapping charges overseas.
"If the Japanese government shows it is serious about enforcing these international orders, I believe it will send a powerful message to resolve current cases as well as prevent future cases," Benda said. ■
Source:  "Is Japan a haven for parents who kidnap their own children?", South China Morning Post, 15 July 2018